Dry granulation is a new type of granulation process. In recent years, the application and development of the pharmaceutical industry at home and abroad have been very rapid. With the further promotion and application of the dry granulation industry in the pharmaceutical industry, the market demand for related technical equipment has also shown an expansion trend.
Dry granulation technology is a major strategic innovation in granulation technology. This model has enabled distributors and approved pig farms to convert pellets into pellet processing plants, eliminating many intermediate links and reducing many intermediate costs. For example: transportation costs, marketing expenses, processing costs, etc., to enhance their own terminal competitiveness.
Dry granulation is environmentally friendly and clean, saves the dry environment, and reduces the emission of pollution. It is one of the most widely used pharmaceutical processes that are widely considered.
The dry granulator is more in line with the requirements of current pharmaceutical production. The dry granulator is mainly composed of a feeding system, a reversing conveying system, an extrusion system, a crushing system, a front cover system, a water cooling system, a whole grain system, a hydraulic system and a body combination. , cover plate combination, rotating screen system and other components, in a completely sealed state, and all contact with the material to facilitate the disassembly and cleaning, effectively prevent dust leakage, reduce the possibility of contamination, reduce the purification area, More in line with GMP requirements for pharmaceutical production.
At present, there are many domestic manufacturers of dry granulators, and domestic equipment can basically meet the needs of the domestic market. However, due to the lack of investment in R&D and innovation of related companies, domestic equipment still has poor stability and high failure rates. The main problems are: bad rollers, water leakage, misalignment of rollers, large dust production, low yield, and difficulty in cleaning. Pressure instability and so on.
Relevant experts pointed out that the dry granulation process is a new granulation technology that has emerged in recent years. Its advantage is that it can be pelletized directly after addition of an appropriate amount of excipients in Chinese herbal extract powder, without the need for processes such as wetting, mixing, and drying. The process is simple and effective. Ensure the quality of Chinese medicine. With the continuous expansion of the domestic pharmaceutical industry, especially the continuous advancement of the traditional Chinese medicine industrialization process, the dry granulation process and equipment will be further promoted. Domestic related production enterprises should strengthen technology research and development as soon as possible to improve the existing problems of domestic equipment and better meet the needs of the market.
About Silicone Camera Case
As we konw,the people more and more like take picture and the camera is hot selling in the market.In the same time,the camera protector case are invented.In the camera case market,it has soft case and the hard case.Our factory is wholesales silicone soft camera case.Silicone camera case has many advantages,it is not only can prevent nails from being scratched and worn for a long time, and can protect the screen and the buttons,but also has anti-skid effect,the silicone case texture is soft and comfortable,this will make you take a better picture!
Silicone Camera Case introduction:
1.Product name:Soft camera case,silicone camera case,camera protector case,small camera case,silicone camera cover,camera sleeve
2.Place of origin:Guangdong China
3.Color:any pantone color
4.Logo:Printing,debossed,embossed
5.MOQ:500pcs.
6.Package:1 pcs/opp,customized design is available.
7.Design:Customized/stock
8.Certification:FDA,LFGB,SGS,ROHS,etc.
9.Usage:Protect camera/Decoration.

10.Silicone Camera Case photo's for reference.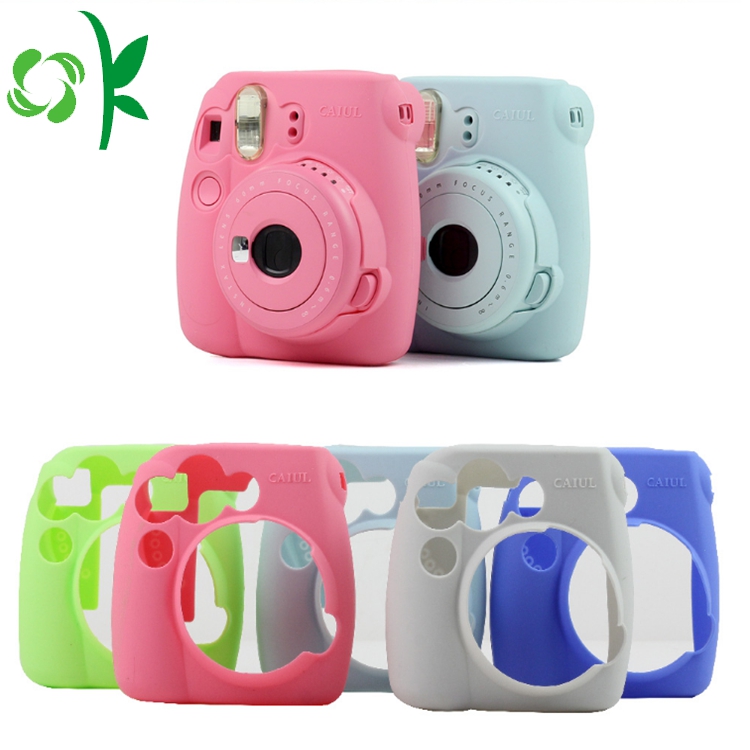 Soft Camera Case,Silicone Camera Case,Camera Protector Case,Small Camera Case,Silicone Camera Cover,Camera Sleeve
Dongguan OK Silicone Gift Co., Ltd. , https://www.dgsiliconepettags.com