Model NO.:
MELEE MOULD-711
Installation:
Manual Installation
Mould Material:
P20, 718, H13...
Origin:
Huangyan, Taizhou
Detail description of Plastic Tableware Mould
Product Name: Tableware Mould
Product material: PP
Plastic Tableware Mould cavity: 1cavity
Plastic Tableware Mould material: P20, 718
Plastic Tableware Mould life: 800k shots
Runner system: Hot runner
Ejection system: Gas ejector
Plastic Tableware Mould features: Good quality
Injection cycle time: 30seconds
Tooling time: 35days
MELEE MOULD Co., Ltd service process
1. Design/sample: Product, mould, etc.
2. Discussion: Mould material, cavity number, price, runner, payment, etc.
3. Order placedA: Ccording drawing or your samples.
4. Design mould: We will send mould design to customer for confirmation
5. Mould tooling: We start to make mould after mould design confirmed
6. Mould processing: Send pictures to customer to let customer what we doing
7. Mould shot trial: Send mould shot trial samples to customer to confirm mould quality
8. Delivery: Ship mould after mould quality confirmed.
?. Detail description of plastic mould/mold 


| | |
| --- | --- |
| Product Name | Plastic Tableware Mould |
| Plastic Tableware Mould  Size |  500x500x450mm |
| Plastic Tableware Mould material | PPÂ  |
| Plastic Tableware Mould cavity | 1cavity |
| Plastic Tableware Mould size | 700x700x650mm |
| Plastic Tableware Mould Suitable machine | Around 600T |
| Plastic Tableware Mould material | P20, 718 |
| Plastic mould life | 800k shots |
| Runner system | Hot runner |
| Ejection system | hydro-cylinder |
| Plastic Tableware Mould features | Good quality |
| Injection cycle time | 120 seconds |
| Tooling time | 50 days |



















































Electric Forklift is a type of mainstream product presented by Shandong Volin Heavy Machinery Co., Ltd. Owing to its security, stability, easy maintenance, and energy saving, no pollution, it is widely used in workshops, warehouse, ports, railway stations and other places for lifting different type of goods.
Our electric forklifts range from 1.5 ton to 3.5 ton, 3 m lifting height to 6 m lifting height, DC motor and AC motor with Chinese most famous storage battery Torch.
Our battery forklifts were awarded by CE ISO9001, SGS COC, CO GHOST...
2 Technical Superiority
CURTIS electronic control system made in America is used in electric forklift. In addition to all kinds of electronic control protection mechanism, they will have functions of power-off protection, driving braking and steering keeping and so on.
The excellent performance of low speed DC motor and low noise gear is very attractive. Furthermore, steering motor and steering pump are canceled to achieve a single pump shunt which can reduce the driving and lifting noise, so they are better for environmental protection.
The electric system uses intelligent electronic instruments, which can automatically measure water temperature, fuel level, and engine oil pressure; the connectors have a special water-proof seal structure, ensuring safe and reliable operation.
The appearance is very beautiful and elegant. What is more, the frame is firm and reliable, because the thickness of plate reaches to about 10mm while many other brands of forklifts 6 mm
The cab with ergonomic design and adjustable shock absorption seat can provide a more comfortable and safer operation environment and a better vision, which will greatly reduce the labor intensity.
Transverse drive motor and storage battery laying on the bottom of the frame ensures the good stability. Besides, the battery capacity is large enough to keep working for 8 hours.
Either secondary tertiary telescopic mast is optional as you like, and the maximum lifting height can be 6 meters.
3 Service superiority
Super high cost performance
Different types of Equipment is optional according to customers` requirements
Prompt and full-scale products support and after-sale service system.
4 Question
How SHANTUI do the after-sale service?
SHANTUI Group has the best after-sale service system.
All parts No. and parts information can be tracked immediately.
Over 20,000 kinds of main spare parts are in-stock.
All the warranty parts will be sent at the first time by TNT/DHL without charge and air freight.
We provide maintenance video and overseas service
Shantui products including Diesel Forklift, electric forklift, heavy duty forklift, Gasoline Forklift, container forklift, Side Loader , Pallet Truck , Construction Machinery including shantui bulldozer, Wheel Loader , crawler excavator, road roller, generator set, motor grader, truck crane, construction machinery parts, Shantui Parts , Cummins engine parts, komatsu parts, and other machinery parts.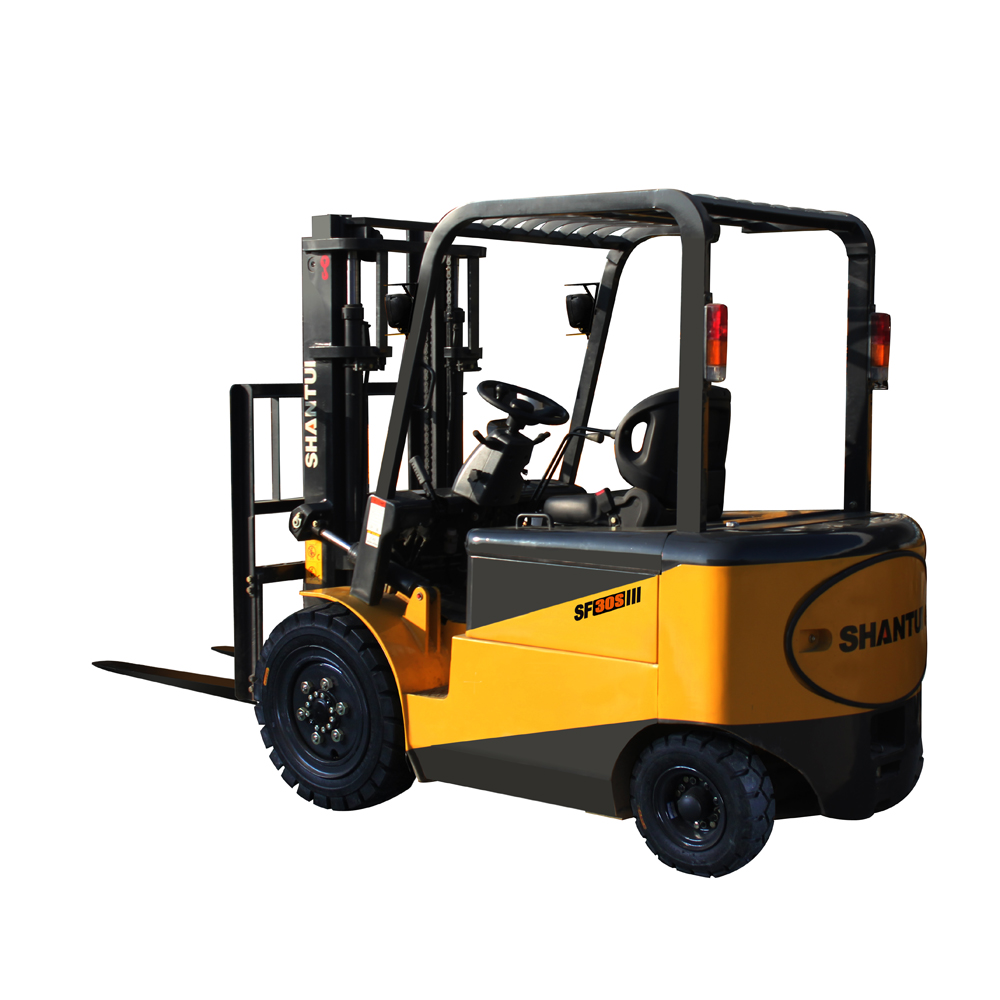 Electric Forklift
Electric Forklift,Telescopic Forklift,Electric Battery Forklift,Mini Battery Forklift
SHANDONG HE FORK TRUCK CO.,LTD. , https://www.shantuimachinery.com