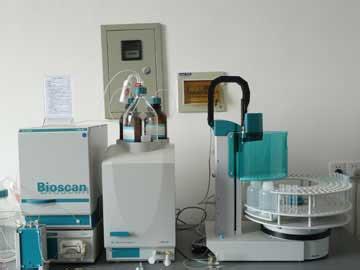 Ion chromatography is a liquid chromatography method used to separate organic and inorganic ions that can dissociate in water and is a type of high performance liquid chromatography. Since its inception in the mid-1970s, it has quickly become an important analytical tool for cations and cations in aqueous solutions. Applications range from analysis of common anions, cations, and organic acids in water to the analysis of polar organic compounds and sugars, amino acids, peptides, and proteins in biological samples.
Characteristics of Ion Chromatography Methods Determination of ionic compounds is the main content of classical analytical chemistry. There are some rapid and sensitive analytical methods for the analysis of cations, such as atomic absorption, high-frequency inductively coupled plasma emission spectroscopy, and X-ray fluorescence analysis. The analysis of anions has long lacked a rapid and sensitive method. The classic volumetric, gravimetric and photometric methods have been used. These method steps are lengthy, time-consuming, sensitive, and susceptible to interference. The developed ion chromatography overcomes the above drawbacks and has the advantages of rapidity, high sensitivity, good selectivity, and the ability to measure multiple components simultaneously. It can be said that the analysis of anions by ion chromatography is a new breakthrough in analytical chemistry.
Fast and convenient analysis of seven common anions (F-, Cl-, Br-, NO3-, NO2-, SO42-, PO43-) and six common cations (Li, Na, NH4, K, Mg2, Ca2) The time is less than 10min. For example, the separation time of the above-mentioned seven common anions can be as short as 3 minutes.
The high sensitivity of the ion chromatography ranged from μg/L to mg/L. When the injection volume was 50 μl, the detection limit of common anions was less than 10 μg/L. If you increase the injection volume and use a small aperture column (2mm diameter) or online concentration, the detection limit can reach 10-12g/L.
Selective IC methods for the analysis of the selectivity of inorganic and organic cations and cations are mainly achieved by the selection of appropriate separation and detection systems. Due to the selectivity of the IC, the pretreatment of the sample is simple, and dilution and filtration are generally required.
Simultaneous determination of multiple ionic compounds Compared to photometric, atomic absorption methods, the main advantage of ICs is the simultaneous detection of multiple components in a sample in a short time.
Separation column with good stability, high capacity IC styrene / divinylbenzene polymer is the most widely used filler. The high pH stability of this resin allows the use of strong acids or alkalis as eluents, which is beneficial for expanding the range of applications. Dissolving, diluting, and filtering are the main tasks of pretreatment when analyzing samples.
EVA Moulding Machine For Shoes
The machine is fully hydraulic and automatic operation expect taking product. And coordinate humanized parameter computer operation interface with database to provide quick and exact terms of production, the modern top injection-molding machine can produce EVA mid soles (wedge), slippers, sport protectors and various kinds of shoe accessories. It`s allowing to match the other kind of mould and material to produce the other products.
Full-Automatic Foam EVA Injection Moulding Machine
Advantage:
1. Low operation height;
2. Extra Height opening stroke;
3. Mould thickness adjusting mechanism;
4. Rapid mould opening;
5. Speedy injector MOVENMENT;
6. Energy saving design;
7. Space saving design .

Main Technical Parameter

| | | |
| --- | --- | --- |
| Work Station | Station | 6 |
| Clamping Force | ton | 180 |
| Mould Plate Size | mm | 2(290*550) |
| Mould Height | mm | 100-210 |
| Mould-Opening Stroke | mm | 350 |
| Injection System | | |
| Injector | | 2 |
| Diameter of Screw | mm | Φ60 |
| Injection Cap(Max) | cc | 920 |
| Injection Pressure | kg/cm² | 0-130 |
| Injection Speed | cm/sec | 0-10 |
| Rotating Speed of Screw | r.p.m | 0-190 |
| Temperature Control | section | 4 |
| Electricity Consumption | | |
| Heater Barrel | kw | 9.8x2 |
| Heating Plate | kw | 76.8 |
| Hydraulic System | kw | 40.5 |
| Vacuum Pump | kw | 1.5 |
| Cooling Fan of Barrel | HP | 1 |
| Total Electricity | kw | 138 |
| Oil Tank Size | L | 800 |
| Machine Weight | kg | 23800 |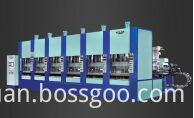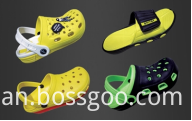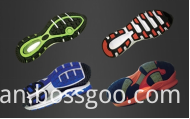 EVA Moulding Machine For Shoes,Full-Automatic EVA Injection Moulding Machine,EVA Double Foaming Moulding Machine,EVA Moulding Machine
SHIJIAZHUANG LONGXUAN TRADING CO., LTD , https://www.longxuanmachines.com