On February 21, 2017, the second "Discover Trust - China Truck Users Survey and Selection" sponsored by China Trucking Network held the award ceremony in Beijing.
ZF
Retards was eventually obtained through the Trusted Organizing Committee. "2017 Innovation Application Promotion Award".
Due to the complex geomorphology of China, the steep slope of the mountain road far exceeds that of Europe, so the demand of truck users for retarders is even more urgent. Based on the characteristics of commercial vehicles in China, the national regulations in 2014 proposed the requirement that retarder or other brake assist system must be installed on vehicles transporting hazardous chemicals. In the coming years, national laws and regulations will inevitably require partial subdivision of trucks with hydraulic retarders, which undoubtedly provides an excellent opportunity for the promotion of ZF retarders in China.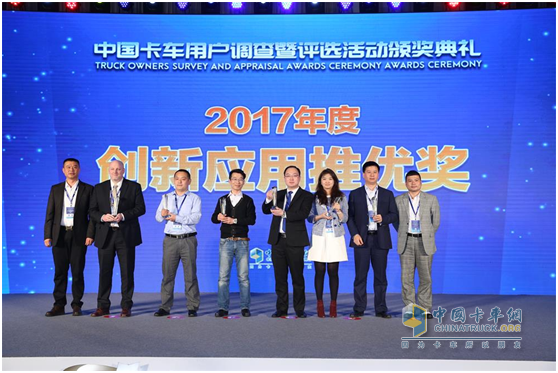 ZF won 2017 Innovation Application Promotion Award
The ZF Power Intarder retarder is of superior quality and has a braking torque of 4000N.m, which is significantly higher than the previous generation, while the Eco Intarder retarder with a braking torque of 3300N.m is equally good. Both models are lighter than the previous generation and weigh only 65kg, while the required installation space remains unchanged. In addition, due to the reduced number of interfaces, the installation is more convenient. The Intaredr retarder enables the new electronic control unit to be easily integrated into the vehicle's brake management system for cruise control. In addition, the driver can control the braking torque as required, and there are five brake forces available for selection.
The new-generation Intarder retarder uses a vane pump instead of an accumulator, which allows for faster injection and faster response. The retarder also features a stainless steel heat exchanger that provides protection when using low quality coolant.
The Intarder retarder has the advantages of low oil consumption, low fuel consumption and low noise. The 635,000 retarders currently installed means that the vehicle can reduce approximately 13,000 tons of brake dust per million kilometers. In addition, the driver and passengers travel more comfortably and safely. Regardless of the automatic stepless adjustment conditions of the retarder and the setting of the braking position, the safety systems such as ABS and ESP can work normally. Can achieve the engine is not over speed and braking force without interruption of the brake.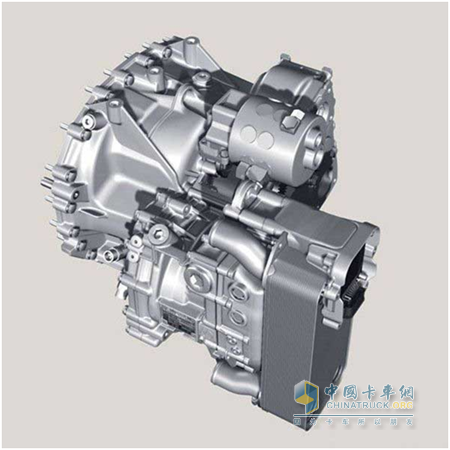 ZF Retarder
"Finding trust - China Truck User Survey and Selection" is an activity that aims to help the truck manufacturing industry to understand the truest voice of users and to promote the healthy development of the Chinese truck industry. Since March 2016, the China Truck Network has found that the Trust Group has launched a trustful visit to the country, accumulatively visited more than 600 logistics parks, more than 60 large-scale logistics companies, and surveyed more than 20,000 users. It covers more than 30 provinces and cities in the Northeast, North, Central, East China, South China, Southwest, and Northwest China, collecting over 20,000 questionnaires.
Although the development momentum of China's commercial vehicle market has not been satisfactory in the past two years, ZF's growth rate in the Chinese market has remained above the standard. In 2016, with the introduction of TraXon modular gearbox technology, the further promotion of its Intarder hydraulic retarder and the integration and upgrade of its after-sales service system were ZF's next major work in China.
From the initial release to a total output of 500,000 units, the ZF Intarder hydraulic retarder was used for 16 years. Due to the increased demand, ZF has nearly doubled its production capacity in the past eight years, and its total output has reached one million units.
At the award ceremony, ZF officials said that many users now choose to install ZF's hydraulic retarder according to their own usage conditions. The actual use effect is given by the user. Higher rating. At the same time, ZF will also endeavor to do a good job of propaganda for hydraulic retarders in an effort to allow domestic users to change their traditional concepts.
Description
After filtering and heating, the air enters into the hot air distributor at the top of the centrifugal spray dryer, and the hot air will spirally and evenly goes into the drying chamber. The material liquid via high-speed centrifugal atomizer rotates into extremely thin vaporific liquid globule and parallelly flows with the hot air, and then the liquid will be dried into powdery products in a very short time (5-10 seconds). The waste gas after filtering will be expelled through the fan. For the wet organic solvent materials, the spray drying machine can be designed with closed cycle process. It can utilize cyclic nitrogen to dry the materials.
Application
LPG high-speed centrifugal spray dryer is a kind of dedicated equipment for drying emulsion, suspension, paste and solution. This spray drying machine is particularly prominent in drying polymers, resins, dyes, pigments, ceramics, glass, rust remover, pesticides, carbohydrate, dairy products, detergents, fertilizer, organic compounds and inorganic compound liquids. Specifically, this centrifugal spray dryer is applied to the following fields:
1. Chemical Industry
Potassium chloride (sodium chloride), alkaline dye and pigment, dye intermediate, compound fertilizer, formaldehyde silicic acid, catalyst, sulfuric acid agent, amino acid and white carbon black.
2. Plastic Resin
AB, ABS emulsion, urea resin, phenolic resin, polyethylene, polyvinyl chloride, etc.
3. Food Industry
Rich fat milk, cocoa milk powder, milk replacer, pig blood powder and egg white (yolk)
4. Food and Plant
Oat, chicken liquid, coffee, instant tea, flavoring meat, protein, soybean, peanut protein and hydrolysate
5. Carbohydrate
Corn steep liquor, corn starch, glucose, pectin, malt sugar, potassium sorbate and so on
Features of Spray Drying Machine
1.LPG centrifugal spray dryer with fast drying speed can constantly evaporate 95%-98% moisture. The drying time is about 5 seconds to 15 seconds. This drying equipment is especially suitable for thermosensitive substance.
2.This spray dryer has excellent uniformity, liquidity and solubility as well as high purity.
3.This spray drying machine has simple production process and easy operation. After drying, it does not need to grind and screen, which can reduce production procedure and enhance the purity.
Process Flows of Centrifugal Spray Dryer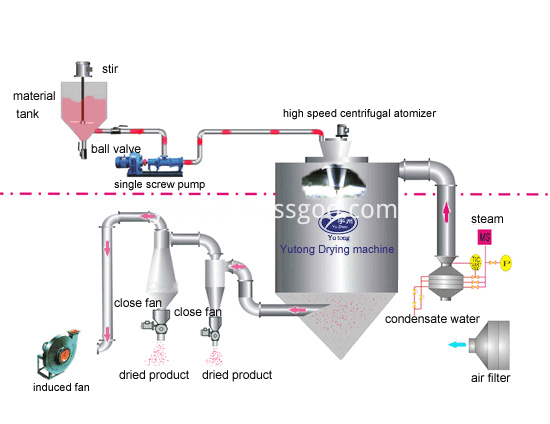 Technical Parameter of Centrifugal Spray Dryer
Item/Model

LPG

5

25

50

100

150

200-2000

Inlet Temperature (℃)

≤ 350

Outlet Temperature (℃)

80 to 90

Maximum Moisture Evaporation (kg/h)*

5

25

50

100

150

200-2000

Drive type of Centrifugal Spray Nozzle

Compressed air drive

Mechanical drive

Rotating Speed

25000

22000

21500

18000

18000

15000

Diameter of Spray Disk (mm)

50

102

108

108

150

180-340

Heat Source

Electricity

Electricity

Electricity+ steam, fuel oil, gas

Electricity+ steam

Electricity+ steam, fuel oil, gas

Depending on users

Maximum Power of Electric Heating (kw)

8

31.5

60

81

99

Overall Dimensions (L × W × H)

1.8 × 0.93 × 2.2

3 × 2.7 × 4.26

3.7 × 3.2 × 5.1

4.6 × 4.2 × 6

5.5 × 4.5 × 7

According to the actual situation

Dry Powder Recovery (%)

≥ 95

≥ 95

≥ 95

≥ 95

≥ 95

≥ 95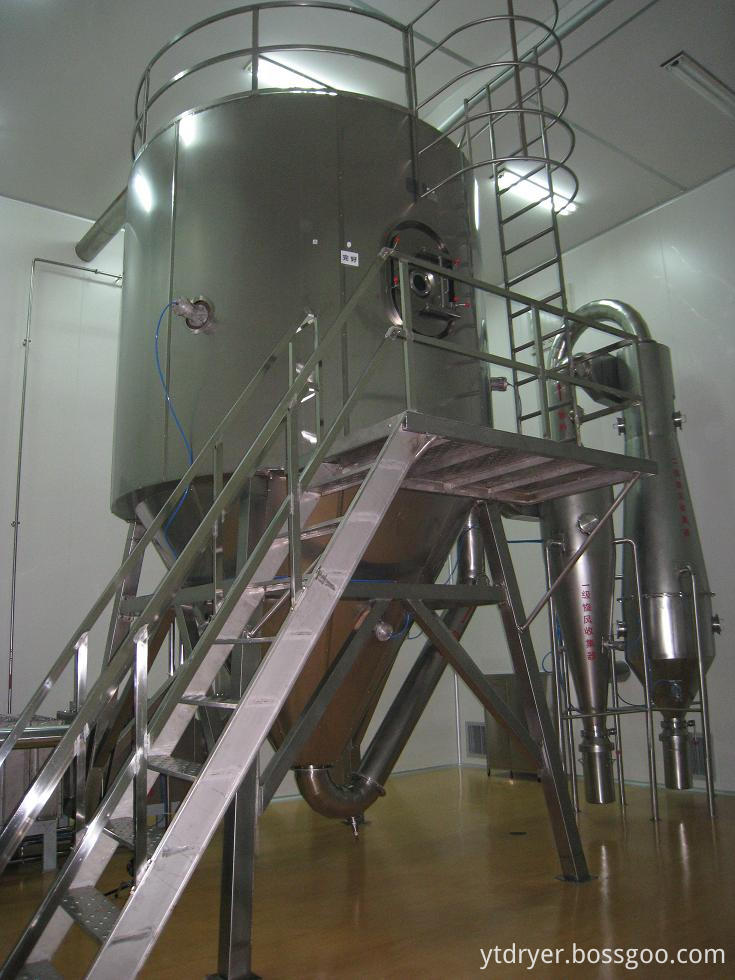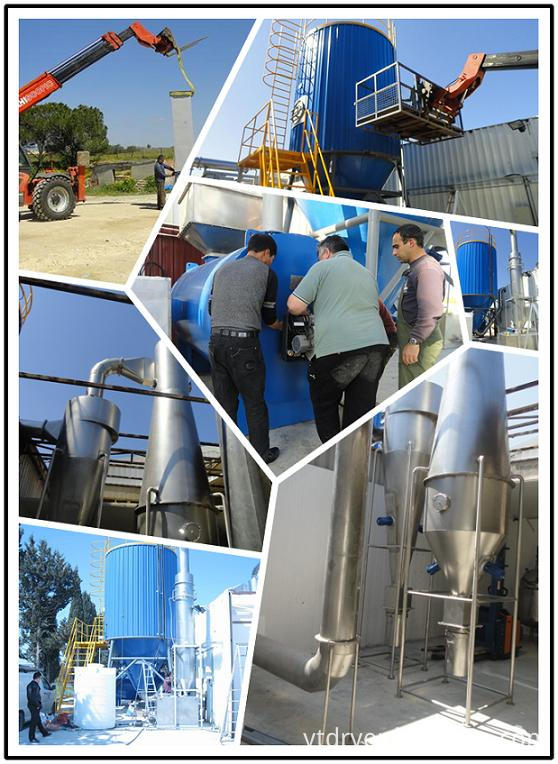 Yutong Company specializes in designing and manufacturing spray drying machine in China. Besides centrifugal spray dryer, we also provide belt dryer, hot air oven, Vacuum Drying Machine, Mixing Machine and Granulating Machine. Our products have obtained several national patents and we have powerful research and development as well as innovation capacity. Additionally, centrifugal spray dryers must undergo a trial run in the workshop, and only those qualified products are allowed to leave the factory.
Spray Dryer for Chemical Industry, Food and Plant Spray Dryer, Pharmaceutical Spray Dryer, Plastic Resin Centrifugal Spray Dryer, Carbohydrate Spray Drying Machine
Jiangsu Yutong Drying Engineering Co.,Ltd , https://www.ytdryer.com