1. The most suitable for multi-type small and medium-sized parts. With the gradual decline in the cost of manufacturing CNC machine tools, now whether domestic or foreign, the processing of large quantities of parts has also emerged. When processing very small batches and single pieces of production, it is optional to shorten the debugging time of the program and the preparation time of the tool.
2. Parts requiring high accuracy. The CNC machine tool has good rigidity, high manufacturing precision, precise tool setting, and easy size compensation, so parts with high dimensional accuracy can be machined.
3. Parts with small surface roughness. In the case of a fixed workpiece and tool material, finishing allowance and tool angle, the surface roughness depends on the cutting speed and the feed rate. Ordinary machine tool is a constant speed, the different diameters of different cutting speeds, such as CNC lathes with constant line speed cutting function, car end surface, different diameters and outer circles can use the same linear speed, to ensure that the surface roughness value is small and consistent. When processing surfaces with different surface roughness, small feedrates are used for surfaces with small roughness, large feedrates are used for surfaces with large roughness, and variability is very good, which is difficult to achieve on ordinary machine tools.
4. Parts with complex contour shapes. Any plane curve can be approximated by a straight line or an arc. The CNC machine tool has a circular interpolation function and can process various complicated contour parts.
The Aerial Lift Platform Truck also known as truck mounted insulated aerial lifter vehicle truck, truck mounted insulated beam aerial lifter,Electric Aerial work platforms lift trucks,Telescopic boom lifting height aerial platform trucks, Hydraulic aerial telescopic overhead working platform cage truck
It is ideal for maintenance of traffic lights, street lights, landscaping streets, cleaning/setting signboard and other high aerial works.
Features:
safety assurance
prevention device for pipeline burst
Lifting mechanism adopts high strength Manganese steel rectangular tube
has overload hydraulic protection system
Providing emergency decent devices when in power cut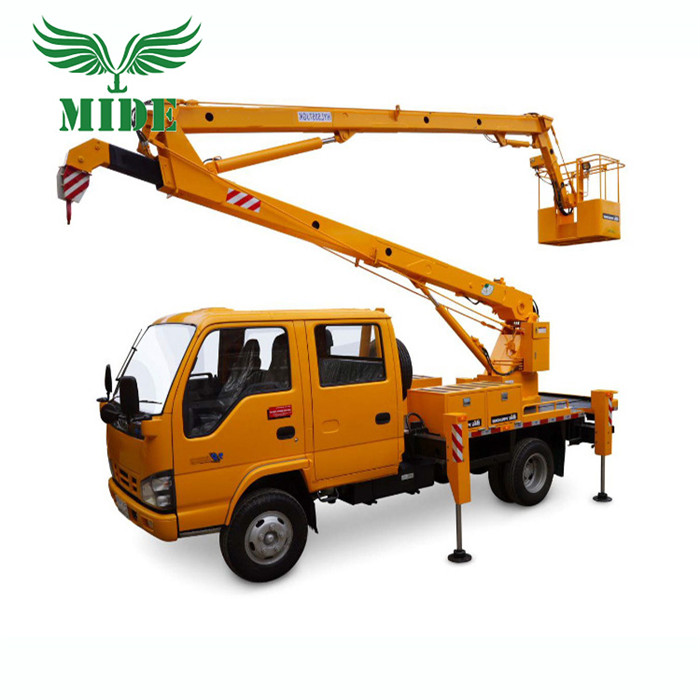 Specification
item No.

Max. Working height(m)

Max. working span(m)

Rotation degree(.)

load weight of cage(kg)

overall

dimension(mm)

Car seat

Weight(ton)

Model of automotive chassis

GKC-8

8

3.8

360

200

5400*1690*2400

6

2.5t

NKR552

GKC-10

10

4.48

360

200

6400*1920*2900

6

3.8t

BJ1041S

NKR55LLA

GKC-12

12

5.16

360

200

6950*1950*2900

6

4.1t

BJ1041S

NKR55LLA

GKC-14

14

5.5

360

200

7400*1950*2900

6

4.4t

BJ1041S

NKR55LLA

GKC-16

16

6.5

360

200

7240*1950*2995

6

4.45t

Jx1060TSG23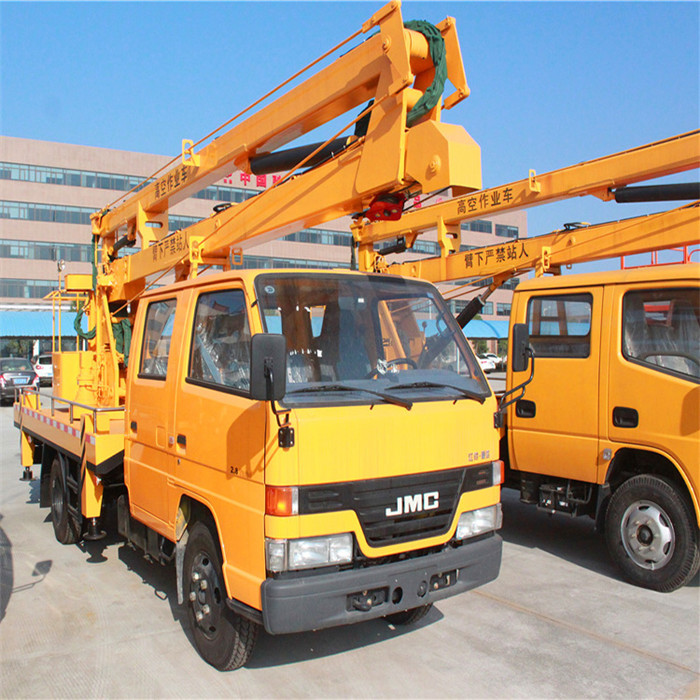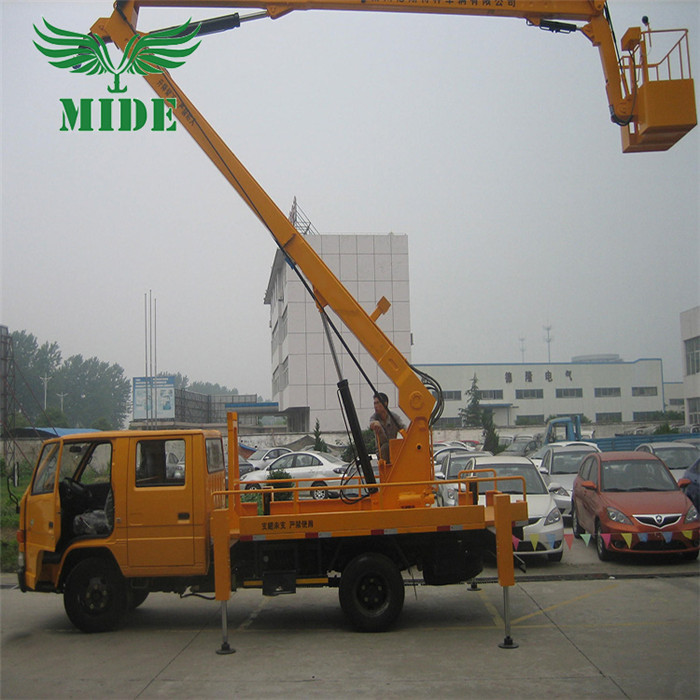 Application: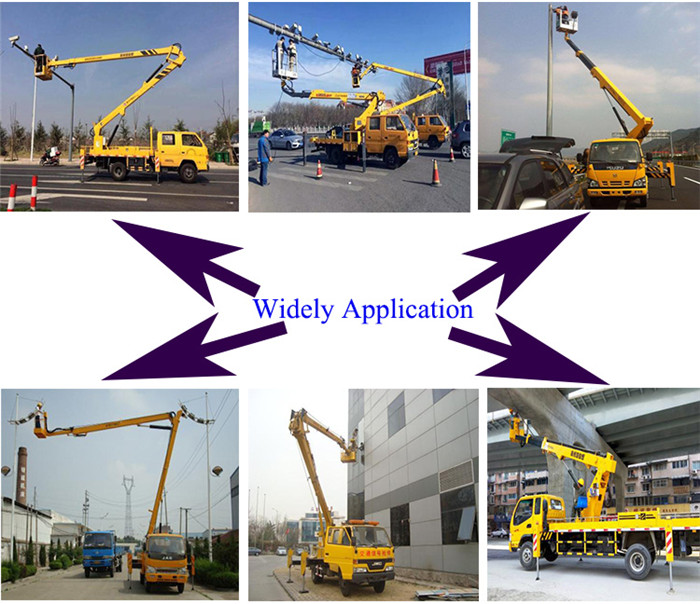 Other type of Telescopic boom lifting height aerial platform trucks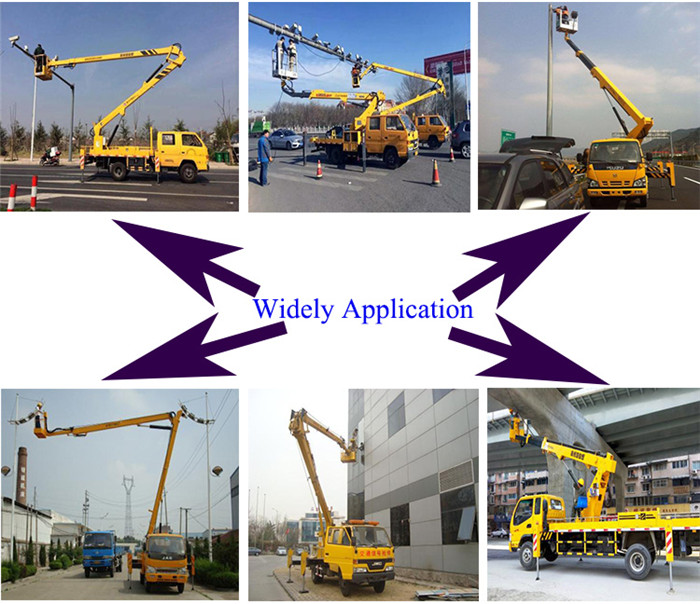 Aerial Lift Platform Truck
Aerial Lift Platform Truck,Lift Platform Truck,Overhead Working Truck,Aerial Work Platform
Jiangxi Mide Industrial Co., Ltd. , https://www.midecrane.com