In 2015, China National Chemical Industry Corporation successfully acquired Italy's Pirelli , the world's fifth-largest tire manufacturer, and became an icebreaker in the tire industry.
What did China Chemical Industry Group buy?
Italian Pirelli Tire Company was founded in 1872 and has a history of more than 140 years. Currently it ranks fifth among global tire manufacturers and mainly produces high performance passenger car tires, motorcycle tires, truck bus tires and agricultural tires.
Pirelli employs 37,500 people in 160 countries and territories around the world. It has 19 plants worldwide, 72 million tires/year of passenger car tires and 6.3 million industrial tires/year.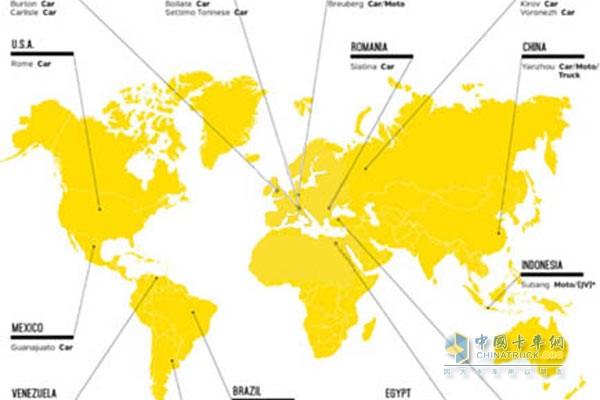 Pirelli tire factory distribution
Pirelli's 2014 sales revenue was 6.02 billion euros. The business was divided into two segments: passenger car tires and industrial tires, of which passenger car tire sales revenue was 4.61 billion euros, and industrial tire sales revenue was 1.4 billion euros.
About one-third of Pirelli's sales revenue comes from Europe, one-third from Latin America, and the remaining countries and regions account for 1/3. In 2014, Pirelli's net profit was 330 million euros, and its net profit rate was 5.5%.
Pirelli is known for its top-level technical strength in the tire industry, focusing on the research and development of ultra-high performance tires and leading the design trend of the global tire industry.
The Chinese tire industry introduced the technology of radial tire production of Pirelli in the 1980s, and it has now become the Chinese tire industry system of today.
In 2014, Pirelli became the sole tire supplier for Formula One races, demonstrating its R&D strength in the global tire industry.
Exclusive Pirelli tyres for F1 races
Pirelli focuses on the high-end tire market. Although its sales revenue is not ranked in the first tier, its brand is the top brand in the global tire industry. It has been awarded to high-end automakers such as Mercedes, BMW, Audi and Bentley, Maserati, Ferrari and other luxury goods. The car manufacturers generally recognized as their supplier of tires.
Integrate Pirelli to change the tire industry
In addition to Aeolus shares, China National Chemical Group also has three other wholly-owned subsidiary tires, which are located in Qingdao, Taiyuan and Guilin. They have a capacity of 4 million pieces of truck tires per year and 100,000 pieces of construction machinery tires.
Among them, Guilin Torch tires can produce giant all-steel radial tires, which is a high-tech product that breaks the monopoly of Michelin and Bridgestone and fills domestic gaps.
In order to solve the problem of competition in the same industry, in June 2014, Fengshen shares announced the "announcement on the company's controlling shareholders to further clarify commitments," China National Chemical Corporation promised to integrate its tire assets with Aeolus shares as a platform.
In addition, there are two rubber tire research institutes under the China Chemical Industry Group, namely the Beijing Rubber Industry Research and Design Institute (abbreviated as North Oak Research Institute) and the Shuguang Rubber Industry Research and Design Institute (abbreviated as Shuguang Institute).
North Oaks Institute is China's largest national research and design institute for rubber research and development. It has a National Rubber Tire Quality Supervision and Inspection Center and a China Compulsory Tire Certification Laboratory. It is the national tire rim standardization technical committee's affiliation unit.
The Rubber Professional Committee of the China Chemical Society, which is based at North Oaks, is a member of the International Rubber Conference.
Dawning Academy is the only institution specializing in the R&D and testing of military tires, civil aviation tires, and artillery safety tires in China. It is also an important production base for Chinese military aviation tires and civil aviation tires.
Shuguang Academy is the unit of special tire engineering technology center and national aviation tire standardization sub-technical committee. It is the national special tire quality supervision and inspection center.
Shuguangyuan is the only company in China that has obtained FAA airworthiness design approval and is the earliest company that has obtained CAAC Aviation Tire Airworthiness Approval.
Although China National Chemical Industry Group has not publicly stated that it would integrate the two research institutes with tire assets, its tires professional R&D capabilities and industry standard formulation, quality monitoring, and product certification functions also have important strategies with tire assets. Collaboration has the advantage that other manufacturers in the domestic tire industry do not have.
China National Chemical Corporation has completed the acquisition of Pirelli tires in Italy at the end of 2015. The integration work has been rapidly carried out in various aspects such as technology, management, and marketing.
Pirelli will first integrate with China National Chemical Group's domestic non-listed tire assets, and then use Aeolus shares platform to land on the domestic capital market.
With the integration of Pirelli and Aeolus, the world-class brands plus China's low-cost manufacturing advantages will relocate the global tire industry. Just as Lenovo bought THINKPAD a decade ago, it became the global leader in the PC industry.
Support Customized CNC Machine.
We specialize in CNC engraving machine such as stamp engraver machine, mould engraving machine, medical engraving machine, jade engraver machine and so on for about 18 years . Different types CNC engraving machine could be customized as your requirement.
Best quality , best service, only for your personal private customization.
Customized CNC Machine
Customized CNC Machine,CNC Jade Engraving Machine,CNC Acrylic Engraving Machine,CNC Graphite Engraving Machine
Jiangsu Changzhou Jinghua Numerical Control Equipment Co.,Ltd. , https://www.jkengraving.com